| | |
| --- | --- |
| | Grants, Scholarships, and MORE |
---
---
Scholarships with No Essays and No Essay Contests
We have heard the requests for a list of scholarships without essays. We know that scholarships with no essay requirement would be great. However, the scholarship with no essay is a hard-to-find scholarship. There are plenty of scholarship essay contests. It can be SO VERY FRUSTRATING to write scholarship essay after essay and then be denied ANY scholarship. We would like to see more scholarships that would somehow award the money based on some other requirement than an essay.  However, it seems that a majority of college grants and scholarships require some type of essay. It is understandable how the sponsors of college scholarships for students would want to know more about the applicant through the use of an essay. After all, the sponsors want to know if the applicant has the ability to take that money and succeed.
YouTube Video:  How to Find College Grants and Scholarships is a short six-minute video that gives you an overall look at where to find college grants and scholarships. If you have no idea on where to start to find financial aid, then this video will give you a good idea on how to go about finding free money in the form of financial aid, grants, and scholarships for college or trade schools for a variety of groups of people such as nursing students, single moms, women, traditional students, non-traditional students, and just about any U.S. Citizen seeking scholarships with the least amount of eligibility requirements.
List of NO ESSAY Scholarships: Episode 1. Updated January 2019. We know that many students want scholarships with NO essay requirement, so we will mention this video, here. This YouTube video will provide information on ten scholarships for college that do NOT require an essay. The TEN NO ESSAY scholarships listed in this YouTube video are not listed on this web page. These scholarships have a minimum amount of requirements, so almost any U.S. citizen may apply for these scholarships. Some of these scholarships ask you to fill out an online application while others request that you answer a short quiz or question. However, most people would consider the application process "easy." Definitely, NO ESSAY is required for these scholarships.
Following is a list of additional scholarships with NO ESSAYS involved. We continue to research college grants and scholarships. When we find a no essay scholarship, we will add it to the list. We know that there are plenty of scholarship essay contests, but hardly any "no essay contests."
However, for now, here is a short list of college scholarships where no essay is required. Please remember that MORE are listed on the YouTube video: List of NO ESSAY Scholarships: Episode 1. Updated January 20
---
PLEASE NOTE: BE CAREFUL:
We decided to write the following statement about being careful on applying for scholarships that MAY no longer be available. From our experience of trying to list scholarships that are currently available, we have found that many scholarships stay on the World Wide Web, although the organizations that at one time funded the scholarships, NO LONGER fund the scholarship. We have found that all the information is on the organization's web page, BUT, the date for applying for that scholarship may be a couple years old. Our best advice is that IF a scholarship is listed on a web page AND the date of application is more than a year old, then it is VERY PROBABLE that the scholarship is NOT AVAILABLE. Our best advice is that if you are interested in a scholarship that has older information, then PLEASE TRY TO CONTACT them to see IF the scholarship is currently being offered. Definitely, a number of organizations may delay funding a scholarship for a year or two. However, there are many scholarships that are found on web pages that have been there for years that have NOT been funded for years.


 
---


Peterson's Undergraduate Scholarship (NO ESSAY)
Sponsor: Peterson's LLC.
Eligibility: "Are you a high school senior or an adult learner planning to go back to school? We know how expensive (but valuable!) college can be.
In order to further our mission of promoting education after high school, Peterson's is proud to sponsor a $2,500 scholarship good toward undergraduate tuition."
Basically, fill in an online form and you are entered to win.
Money: $2,500.
Contact: https://www.petersons.com/undergraduate-scholarship/?utm_source=scholarshiplp&utm_medium=cta&utm_campaign=ugsweep
---
Ratingle Scholarship (VIDEO Contest)
Sponsor: Ratingle.com
Eligibility: " Applicants must be permanent residents of the United States."
"The Ratingle Scholarship subject is product reviews. Students should choose a unique gadget that made their last year different. The gadget could be of any field (studies/electronics/fun etc.)
The video should introduce the product and answer the most important questions others may have before purchasing this product."
MORE information is provided at their website. This is a VIDEO contest and topic is listed at their website.
Money: $1,000.
Contact: http://ratingle.com/scholarship/
---
Knoji Corporate Responsibility and Brand Values Scholarship (VIDEO)
Sponsor: Knoji.
Eligibility: "Create a short YouTube video (2 to 3 minutes in length, no longer than 5 minutes) to share your favorite brand which you think is having an awesome positive impact. Describe the brand, who they are, and what they're all about. Maybe you can influence other people to check them out! We'll share select videos on our social media channels to give their brand message greater exposure.
In your video, you must answer the following:
Identify the brand, where they're located, and what products or services they provide.
How is this brand making a difference? What are their brand values?
Why is this brand's mission is meaningful to you personally? If possible, share a story or personal anecdote that illustrates this.
Why should other people buy from this brand?"

Money: $1,000.
Contact: https://knoji.com/scholarship/
---


FormSwift $1,000 Scholarship Contest
Sponsor: FormSwift
Eligibility Requirements:

1. You must be a graduating senior in high school or enrolled in college. Community college, professional college, and graduate students are all eligible, in addition to undergraduates at four-year universities.
2. You may not be related to any of FormSwift's staff or our extended family.
3. International students, including students from a college or graduating from a high school outside the United States, are also eligible to apply.
4. We reserve the right to verify date of high school graduation and/or college enrollment.
Create a Business Plan Infographic about one of the following business industries for a chance to win the FormSwift Scholarship:
Startup
Restaurant
Non-Profit
Transportation
Clothing
Money: $1,000.
Contact for MORE information: http://formswift.com/startup-scholarship
---
Off to College Scholarship Sweepstakes

Sponsor: SunTrust Bank 
SunTrust Bank has funded a scholarship for a number of years. It is questionable IF they are continuing to fund a scholarship. We will keep this scholarship on this list, for now.

Eligibility Requirements: Available for high schools students planning to enroll in college and to students already in college and expecting to be there in fall.  This is good for accredited colleges and trade schools. By all that we can tell, no scholarship essay is required. It sounds like the winner is picked from a drawing.

Money: $500 scholarships.

Contact Information: https://offtocollegesweepstakes.suntrust.com
---

Chegg's $1,000 Monthly Scholarship
Sponsor: Chegg
Chegg is no longer just about renting books. Chegg now includes Zinch and offers a variety of college-related information, INCLUDING scholarships.
Chegg will list A LOT of scholarships. At one time, they offered a monthly $1,000 scholarship, but, this may have changed.
Please go to this website for MORE information about scholarships:
http://www.chegg.com/scholarships/
https://www.chegg.com/scholarships/chegg-1000-monthly-scholarship-january-2018-13403/apply
---
NICHE.com Scholarships
Sponsor: NICHE
$2,000 "NO ESSAY" MONTHLY Scholarship is open to all current students and those planning to enroll within 12 months.
"The $2,000 "No Essay" Scholarship is an easy scholarship with no essay required! The scholarship can be used to cover tuition, housing, books, or any education-related expenses. The monthly winner will be determined by random drawing and then contacted directly and announced in Niche's e-newsletter and on the Scholarship Winners page. You can apply once each month, with a new winner selected every month."
https://www.niche.com/colleges/scholarship/no-essay-scholarship/
---

PLEASE NOTE: Pelican Water Systems has offered the following scholarships for many years. We know that their website says that the scholarships are no longer available. HOWEVER, we will keep Pelican Water Systems Scholarships on this list, for now. Maybe they will decide to fund their scholarships at a later date.
Pelican Water Systems Scholarship (Bi-annual)

Sponsor: Pelican Water Systems.
The requirements for this specific scholarship have changed over the years and it may, one day, change to less than an essay requirement, again. HOWEVER, for now, here are the new requirements.
Eligibility Requirements:
"Video Theme: Show how you're doing your part to conserve water.
How To Enter:
Upload a 30-60 second video on Instagram using the hashtag #pelicanwatersmart
Tag @pelicanwatersystems in the caption of the video
Write a 250-word essay highlighting what water conservation means to you."

Money: First Place: $1,500. Second Place: $1,000. Third Place: $500.

Contact: http://www.pelicanwater.com/scholarship.php
---
Common Knowledge Scholarship

Sponsor: Common Knowledge Scholarship Foundation.
APPARENTLY, it is NO LONGER as easy to enter for this scholarship as it once was. . I captured part of their web page for their explanation. They are in the process of changing their format for the scholarships that they will be offering.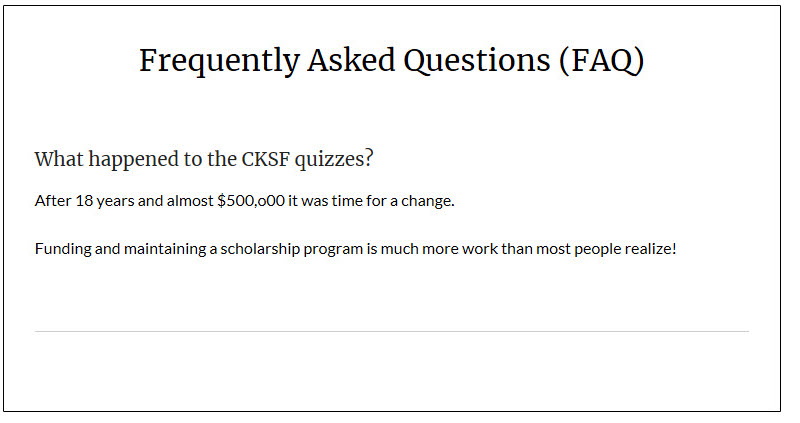 This WAS the old scholarship:
Eligibility Requirements:  "CKSF offers a wide variety of scholarship quizzes throughout the year for U.S. high school, college, and graduate students. We even have some scholarships that parents can win for their children." CKSF Scholarship Facts: All U.S. high school, college, and graduate students are eligible (parents can compete, too). Scholarship competitions consist of one or more quizzes with topics ranging from general "common knowledge" to specific academic subjects, books, websites, and even movies. Current and upcoming scholarship quizzes will appear in your account once you register. Scores are based on a combination of time and accuracy. Results are always accessible from our homepage. Students with the highest scores at the end of each competition win.
Money: Award amounts range from $250 to $2,500. CKSF scholarship awards may be used at any post-secondary school in the U.S.

Contact Information for more information: http://www.cksf.org/scholarships/
---
Sallie Mae Fund Scholarship Program
Sponsor: The Sallie Mae Fund
We have modified this listing a number of times because Sallie Mae has made a number of changes to their website and information over the years.

For a number of years, scholarships provided by Sallie Mae seem to come and go. The thing to keep in mind is that apparently Sallie Mae will provide some scholarships, but you need to keep checking their website or organization in some way. As of this writing, the main web page to contact for scholarship information is: https://www.salliemae.com/plan-for-college/scholarships/.

There have been a couple of things that have continued over the years:
Occasionally, Sallie Mae will provide scholarships, BUT they change.
Sallie Mae has added a free scholarship search service. You need to register.
Some of the scholarships listed by Sallie Mae have had almost no requirements, including NO ESSAY. You need to keep checking the website.

Please use the following link for current information about Sallie Mae's scholarships: https://www.salliemae.com/plan-for-college/scholarships/.

There is some VERY GOOD information about scholarships and about searching for scholarships at this website. Sallie Mae is a very well-respected educational source
---
Scholarships for Moms: We were hesitant to list this specific scholarship for a while because we just did not know if it was legitimate. However, this scholarship has been around a while and looks credible to list this scholarship for mothers, single or married.
Sponsor: FreeCollegeScholarships, LLC.
"Applicants must be 18 years of age or older and must be permanent residents of the United States. You agree that you are currently enrolled, or will be enrolled within the next 3 months, in a college or university in the United States. Applicants for the scholarships4moms.net promotion must be a parent to one or more children. You may also be expecting one or more children at the time of entry. Documentation of requirements must be produced upon request." Apparently there is NO scholarship essay so the winner is picked through a random drawing. The award is for ten thousand dollars. More information is located at http://scholarships4moms.net/scholarship-application-for-moms
Scholarships for Moms provided a Scholarship for Dads. HOWEVER, as of 2018, their website says that Scholarships for Dads is NO LONGER available. The eligibility requirements for Scholarships for Dads were practically the same as for Scholarships for Moms, EXCEPT that you had to be a DAD. We will keep this Scholarships for Dads listed on our website for now. Maybe it will be funded at a later date. More information about this single parent scholarship can be located at http://scholarships4dads.com/.
Sponsor for both scholarships is Free College Scholarship, LLC.
Money: $10,000 for each scholarship.
---
The Beliz Law Firm Video Essay Scholarship Contest
Please visit the website for more details about this scholarship contest. The topic of the video can change from year to year.
Eligibility: High school seniors who have been accepted to a college, trade school, or university, or students attending  a college, trade school, or university.

Money: $500.
Contact:
https://www.belizlaw.com/community/scholarship/
---
Do Something.org Scholarships
Sponsor: Dosomething.org.
Basically, you earn the right win a scholarship by volunteering to do something through community service. There are different "campaigns" that offer a variety of money. There is a lot of money to be awarded. PLEASE visit the website for MORE information. Applicants must be between 13 and 25 years old. This is for U.S. and Canadian citizens. A random drawing is part of the selection process.
Money: varies but many scholarships are worth $5,000.
Contact: https://www.dosomething.org/us/about/easy-scholarships 
---
Create Real Impact Scholarship
Sponsor: Impact Teen Drivers.
Eligibility: "open only to legal residents of the fifty (50) United States and the District of Columbia between the ages of 14 and 22 years. Entrants must be enrolled as full-time students in an accredited educational institution (secondary [middle/high] school, trade school, college, or university)."
"Four (4) Grand Prize Individual Educational Grants of $1500 will be awarded, one (1) per category (video, music, art and creative writing) by a panel of qualified judges, whose decisions regarding the contest and related matters are final."
PLEASE go to their website for MUCH more information. Basically, there are four categories for submitting your entry. You can submit a very short video, music, art, essay.
Money: "Four (4) Grand Prize Individual Educational Grants of $1500 will be awarded, one (1) per category (video, music, art and creative writing)
Contact: https://createrealimpact.com/contestrules/
---